Camping
&

awning equipment
Walker Campingstyle BV has the following camping and awning articles for you:
Curtains
Curtains
This is the range of curtain designs: WD6, WD7, WD9, WD10 and WD11; all specially designed for Walker.

Frame tensioner
Frame tensioner
The hook clamps onto the tube and the frame pole can be tensioned with the required pressure using the locking mechanism.
| | |
| --- | --- |
| Frame tensioner | Discount Price £ 24,50 |
Easy to use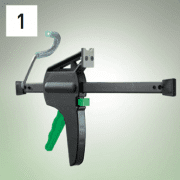 The metal cover is placed against the adjusting screw of the frame to be tensioned. The hook with plastic housing is placed over the sliding tent pole. The casing provides excellent grip so that the hook does not shift. The gun grip can then be squeezed until the tent frame is properly tensioned. The effect is similar to that of a kit gun. When the frame is properly tensioned, the adjusting screw/PowerGrip can be tightened/clicked. On the back of the handle is a button for unlocking the frame tensioner.
Easy-Lock stormstraps
Easy-Lock stormstraps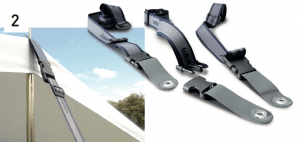 A safe way to tighten your awning or awning!
For all Walker awnings, the Weekender awning and the Patio awning, the clips have already been installed for the 2-part storm band set with click system. The 3-part storm band set for the Castel, Calypso and Patio canopy is attached to the canopies.
| | |
| --- | --- |
| 2-straps for awning | Discount Price £ 16,95 |
| 3-straps for canopy | Discount Price £ 24,50 |
Annexe
 (also available in neutral color grey for older Walker models)
Provided with an extra door and fly screen panel. All Walker annexes are equipped with an extra zip, so the awning's side panel can be used as a partition wall. Measurements (cm): 215(w) x 140(d) x 175(h). Weight: 15 kg.
| | |
| --- | --- |
| Discount Price Annexe Fusion, Allure,Spectrum, Atrium, Signum: | £ 375,- |
Tablecloth
Tablecloth
in the same color as the curtains of your awning: WD6, WD7, WD9, WD10 or WD11; 160 x 110 cm.
| | |
| --- | --- |
| Tablecloth | Discount Price £ 13,50 |
Verandah pole
Verandah pole
By means of a verandah it is possible to lower both side and front parts and to create a so-called verandah.
Steel type 780-870
Discount Price
£ 13,-
Steel type 885-960
Discount Price
£ 14,50
Steel type 975-1080
Discount Price
£ 17,-
Aluminium type 780-870
Discount Price
£ 15,50
Aluminium type 885-960
Discount Price
£ 17,50
Aluminium type 975-1080
Discount Price
£ 20,50
Fiberglass type 780-870
Discount Price
£ 24,-
Fiberglass type 885-960
Discount Price
£ 28,-
Fiberglass type 975-1080
Discount Price
£ 31,-
Smart and stylish accessories from Walker Campingstyle BV: